Millennials Are Leading an "Urban Revival" -- Here's Why
It's a fact: Millennials are moving to city centers. Why? For one, companies (especially those in the growing tech sector) are moving into downtown neighborhoods, bringing high-paying jobs. For another, this generation wants to walk instead of drive, and they value socializing in bars and restaurants as well as having access to retail and entertainment. To answer the demand, developers are patterning a live-work-play formula that packs a high quality of life into a tiny radius.
"The first goal of any serious city planner has to be to increase the supply of housing in walkable neighborhoods and by making densely populated places more walkable," says Jeff Speck, author of Walkable City: How Downtown Can Save America, One Step at a Time. "The result is that a healthier, more productive, more sustainable lifestyle — which more people want — is available to more people." The following three cities exemplify these patterns.
New York City attracts the height of ambition
The largest age group driving a suburban revival in New York is late-30-somethings who are just starting families. However, with 20-somethings, the reverse is happening: They're the cause of most urban core growth. Here's what may be causing that:
NYC is considered the city center of the country, possibly the world, as it is a mecca for finance, media, fashion and advertising.
People move here to be in the thick of it all: lights, sounds, different cultures and people on the streets at all times — an energy like no other place in the world.
Mixed-use projects like the new Hudson Yards — the largest private real estate development in the United States— allow people to live, work, eat and socialize in one space.
NYC has an 89 walk score, an 84 transit score and a 68 bike score — not to mention the subway system, rideshare companies and taxis — which allow for shorter commutes and job centralization.
Below, we graph residential growth based on distance from New York's city center. Farther out, populations are smaller, but population growth is more dramatic. Peak millennial growth has occurred three to five miles from the city center — including in areas such as Astoria, Bushwick, Harlem and Jersey City.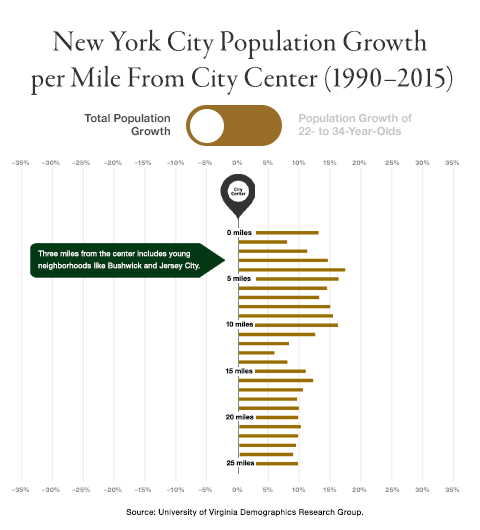 Los Angeles bucks the trend
Since 2010, 89% of LA's population growth has happened in the suburbs. And while LA's population grows overall, its rising housing prices and lack of walkability have resulted in a flight of young people who are rapidly relocating to cheaper urban centers in other states — Texas, Arizona and Nevada in particular. Ever-popular Culver City, Marina Del Rey, Santa Monica and Venice (less than 10 miles from the city center) have seen minimal youth flight — especially as Silicon Valley giants build up Southern California branches (Silicon Beach), bringing high-income jobs. The 22- to 34-year-olds are hyper-concentrating around the city center, likely around LA's developing downtown and expanding metro lines.
The city's outskirts fare better with 30- and 40-somethings, who are finding good-value homes in areas like Long Beach and San Bernardino, which are 21 and 18 miles from the city center, respectively.
Why the LA burbs are calling
Families desire competitive schools and more space. Allison Van Wig, a realtor serving Long Beach for 30 years, says 30% of her clientele has come from LA and its South Bay. "Those numbers have grown in the last 10 years as Long Beach changes. It's more hip. The downtown is under revitalization, the pike has been redone and there are tons of bike paths," she says. "In some parts of Long Beach, you can have a yard, friends over and parking. And if you work in downtown Los Angeles, it's just a 30- to 40-minute commute on the Blue Line — no car necessary. Long Beach offers a high quality of life."
Amenities are starting to resemble that of their more mixed-use, walkable urban environments. Similar to the revitalization of Long Beach, San Bernardino is moving forward with a new development and reuse plan for the 48.2-acre Carousel District site in the heart of downtown.
Main Street–style retail projects offer personality. Robert Steuteville, a Senior Communications Advisor for the Congress for the New Urbanism (CNU), points to the suburb of Lancaster, a former railroad settlement that rebuilt its main boulevard and reduced its car lanes from five to two in the middle of the recession. "It was a bold move," he says, but one that resulted in adding a ton of charm and 50 new businesses. "Civic and social activity has skyrocketed," he says.
Below, we graph residential growth based on distance from LA's city center.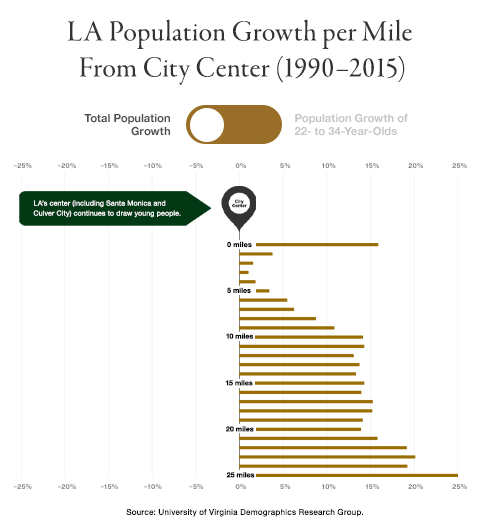 Portland, Oregon, is a walker's paradise
While New York and Los Angeles have long been urban behemoths, swallowing up what few suburbs remain, Portland exemplifies a style of urbanization we're seeing in upcoming or revitalized U.S. cities like Austin or Miami. Here's how:
The city features 10,000 acres of public parks, accounting for a better quality of air and life.
Famous for its music scene and 700 coffee shops, Portland is also known for being idiosyncratic. "Keep Portland Weird" is not just a popular bumper sticker: It's an ethos that encourages people and businesses to "un-conform."
Portland is a hub for several industries, including advanced manufacturing and technology. Google, Intel and Oracle all have offices here, making it an attractive place to seek employment or higher pay.
Portland has a 97 walk score, a 98 transit score and a 94 bike score; bike use alone has increased threefold since 2001.
Below, we graph residential growth based on distance from Portland's city center — as you can see, it's doubled in some areas. While young people concentrate in its urban core, they're also installing themselves just outside of Portland proper — specifically in the formerly suburban areas of Beaverton (approximately seven  miles from the city center) and Hillsboro (approximately 13 miles from the city center), where the area's biggest employers are headquartered. CNU's Steuteville calls out Hillsboro as another suburban success story. Its Orenco Station project is a high-density, mixed-use, urban town center — right off the light rail. This makes another thing clear: Regardless of whether one stays in the city or suburbs, we'll probably be seeing a lot more of these types of developments.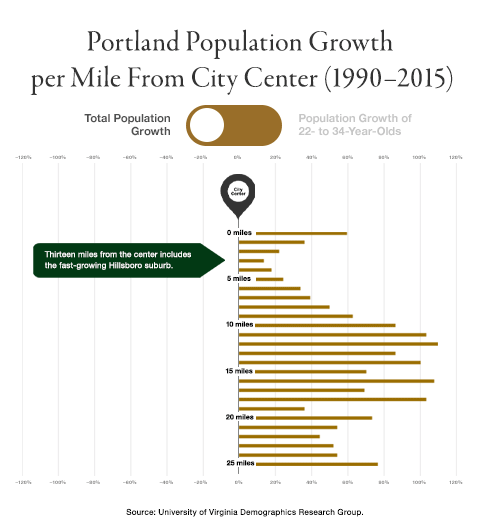 Regardless of which way of life suits you, it's encouraging to know that your quality of life is top of mind for developers and urban planners alike.
This information is governed by our Terms and Conditions of Use.